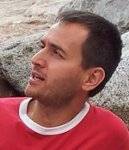 I'm Paolo Finardi and I work in ICT world since 1989 like ICT Consultant.
My experience is mostly in management of ERP in several Company.
But ICT world is not only my work, is also my passion. In particular I love the Opensource solution and his philosophy.
During my carrier I met lots of opensource softwares. I used them for my work and not only for that.
The opensource world has given me much so I decided to dedicate this blog to it.
My goal is show the high quality of opensource solutions writing about product and solution I use and I used for work and home.