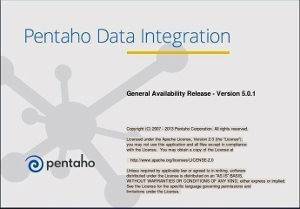 Many people that have to manage data from different sources (DB2, MS Sql Server, MySql, Oracle, Excel, …) surely knows Pentaho Data Integration also known with the name Kettle.
It's a fantastic ETL (Extract, Transform, Load).
But, because there is always a but, there is a little problem on Ubuntu 14.04 and Oracle Java: spoon, the UI of PDI, doesn't work.
When I tried to execute spoon.sh I had the following java error:
paolo@paonote:~/kettle$ ./spoon.sh
/home/paolo/kettle
Java HotSpot(TM) 64-Bit Server VM warning: ignoring option MaxPermSize=256m; support was removed in 8.0
#
# A fatal error has been detected by the Java Runtime Environment:
#
#  SIGSEGV (0xb) at pc=0x00007fd12026c2a1, pid=11634, tid=140538595305216
#
# JRE version: Java(TM) SE Runtime Environment (8.0_05-b13) (build 1.8.0_05-b13)
# Java VM: Java HotSpot(TM) 64-Bit Server VM (25.5-b02 mixed mode linux-amd64 compressed oops)
# Problematic frame:
# C  [libsoup-2.4.so.1+0x6c2a1]  soup_session_feature_detach+0x11
#
# Failed to write core dump. Core dumps have been disabled. To enable core dumping, try "ulimit -c unlimited" before starting Java again
#
# An error report file with more information is saved as:
# /home/paolo/kettle/hs_err_pid11634.log
#
# If you would like to submit a bug report, please visit:
#   http://bugreport.sun.com/bugreport/crash.jsp
# The crash happened outside the Java Virtual Machine in native code.
# See problematic frame for where to report the bug.
#
Aborted (core dumped)

I had the same error with java version 1.7 che 1.8.
No panic!!!
I solved it editing spoon.sh script:
add the following option
-Dorg.eclipse.swt.browser.DefaultType=mozilla

to the following line:
OPT="$OPT $PENTAHO_DI_JAVA_OPTIONS -Djava.library.path=$LIBPATH -DKETTLE_HOME=$KETTLE_HOME -DKETTLE_REPOSITORY=$KETTLE_REPOSITORY -DKETTLE_USER=$KETTLE_USER -DKETTLE_PASSWORD=$KETTLE_PASSWORD -DKETTLE_PLUGIN_PACKAGES=$KETTLE_PLUGIN_PACKAGES -DKETTLE_LOG_SIZE_LIMIT=$KETTLE_LOG_SIZE_LIMIT -DKETTLE_JNDI_ROOT=$KETTLE_JNDI_ROOT"

then restart the script ./spoon.sh and magically everything works!