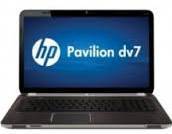 Ubuntu has problems with brightness on HP Pavilion DV7 laptop (DV7-6B97EL). Don't works the function keys to manage the brightness.
No problem, in the Ubuntu World nothing is impossible and everything is easy 😉
To solve this little problem edit /etc/default/grub and change the instruction below:
GRUB_CMDLINE_LINUX=""

in this way:
GRUB_CMDLINE_LINUX="acpi_backlight=vendor" 

then save and give this command:
sudo update-grub

Reboot the PC and all works perfectly.